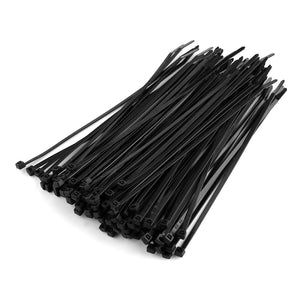 Nylon Cable 8-inch Zip Ties Self-locking 40 LB 100pcs
Regular price $3.99 $3.99 Sale
Nylon Cable 8" Zip Ties Self-locking Nylon Cable 40 LB 100pcs Perfect for Organizing Wires Home Office Use
Features:
High quality polyamide nylon 66, durable, acid-resisting, corrosion resistance.
200mm / 8" length, 4mm width, 100pcs pack.
Self-locking teeth in the cable tie head secure cables or wires makes it easy to zip and snip in tight places
20lbs tensile strength, Increase the tensile strength by using two or more together in a row
Ideally suitable for many application, Perfect for organizing wires, home, office use.
Black Nylon Zip Tie Features
Made With UV Stabilized Nylon 6-6 Material

Standard, Heavy Duty, Or Extra Heavy Duty Break Strengths

Operating Temperature Range 40º - 185º F

High Resistance To Sun & Outdoor Exposure

Self Locking Design
Specifications:
Type: Nylon Zip Ties
Material: Polyamide Nylon 66
Quantity: 100pcs
Color: Black
Tensile Strength: 40lb
UL Flammability: 94V.2
Item Size: 200*4*4.8mm / 8*0.2*0.19" (L*W*H)
Net Weight: 83g / 2.93oz
Package:
100*Nylon Zip Ties