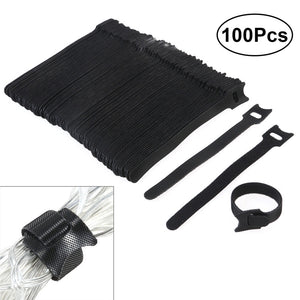 Cable Ties 6 Inch Fastening Ties with Reusable Hook and Loop Strap
Regular price $14.99 $14.99 Sale
Cable Ties 6 Inch 100 pcs Fastening Cable Ties with Reusable Hook and Loop Strap Cable Ties for Organizer Fastening
Description
100pcs Cable Ties 6 Inch Fastening Cable Ties with Reusable Hook and Loop Strap Cable Ties for Organizer Fastening
DEFINITELY SUPER VALUABLE - Made from fabric material with hook & loop attachments, these cable wraps are both reusable and durable. Each pack includes 100 pieces cable ties.
FLEXIBILITY & VERSATILITY - Each Fastening Tie is 6 in length and 0.7 inches in width. Include an eye hole in the tail allowing the tie to be attached to a cable or hung from a hook. Multiple ties can be attached together to form one longer tie.
SIMPLE TO USE - Organizing cables couldn't be easier. It is much better than plastic cable ties and you do not need to trim it. Gather them together, wrap the durable cable wraps around them tightly. The cable wrap opens and closes easily and quickly so you can add or remove cables.
MULTI PURPOSE - They can be used to tie up speaker cables, guitar cables, TV cables, microphone mic, computer cables, and much more. It is ideal for keeping all kinds of cords cables well organized and tidy in place.